Major incident declared at north Cumbria hospitals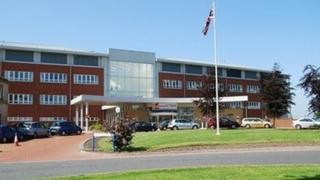 A major incident has been declared at hospitals in north Cumbria because of a shortage of beds.
Carlisle's Cumberland Infirmary and the West Cumberland Hospital in Whitehaven are affected, health bosses said.
All non-emergency operations at both hospitals have been postponed until Friday, with emergency patients diverted to other centres.
The Department of Health said work was under way to tackle the area's "complex" issues it faced locally.
Emergency patients are being diverted to hospitals in Newcastle, Hexham and Morecambe Bay.
The situation has been blamed on weeks of "consistently high" admissions at both hospitals, and there have also been problems arranging suitable social care options for elderly patients.
Dr Jeremy Rushmer, medical director at North Cumbria University Hospitals NHS Trust, said: "Our prime concern is making sure we can continue to provide safe care for patients and this becomes increasingly difficult when our hospitals reach capacity.
"Given the continued and significant pressures our teams have faced over recent months, our hospitals are now struggling to admit any more patients until we can get patients flowing through the system and into appropriate community settings or home with the right package of care."
Special measures
Joanna Forster Adams, director of operations at Cumbria Partnership NHS Foundation Trust, said: "We have taken actions to create as much capacity as is safely possible, including opening up a small number of additional beds in community hospitals.
"We would like to thank staff and patients who have been affected by changes in recent weeks."
A North West Ambulance Service NHS Trust spokesperson added: "We are working closely with healthcare partners to manage the issues at North Cumbria Acute Hospital Trusts.
"Patient care and safety is always our priority and we will continue to work with partners to ensure continued focus on safely transporting patients who need to go to hospital."
When a hospital declares a major incident it indicates the pressure on services has forced the need for special measures to be introduced.
The declaration allows hospital bosses to call in extra staff to help.
Labour's Shadow Health Minister and MP for Copeland, Jamie Reed, said: "This major incident is not the result of winter pressures but wider, year-round system failure.
"I will again write to Health Secretary Jeremy Hunt calling for North Cumbria to be given the resources it needs and for the Department of Health to intervene directly, rather than continuing to ignore the unfolding crisis in the Cumbrian NHS."
A Department of Health spokesperson said: "The NHS is busier than ever and a great deal of work is already underway to tackle the complex issues facing Cumbria health services.
"We've increased the NHS budget by £16bn over this parliament but ultimately we want to reduce pressure on services through our plans to increase access to primary care and look after people better in the community."