Crypt at St Lawrence's Church, Appleby, opened over floods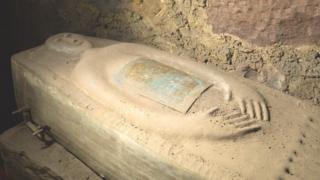 An ancient crypt containing the remains of a 17th Century noblewoman has been opened as part of work to protect a Cumbrian church from flooding.
Lady Anne Clifford was laid to rest in the crypt at St Lawrence's, Appleby - a church she helped restore - when she died in 1676.
But recent heavy rain has meant flood water has got into the tomb.
Work has begun to make the church more watertight and a pipe has been put inside the crypt to drain water away.
The Rev Sarah Lunn, team Rector for the Heart of Eden team ministry, said: "There's been a sense of reverence throughout all of this important work. When all the work is completed we will of course conduct a special service for the reburial of any disarticulated and ancient bones."
Lady Clifford spent 26 years restoring churches and castles, including St Lawrence's which dates from the 12th Century and which she restored.
Her crypt was badly affected in January 2005 when flood water reached 18ins in the church.