Red squirrels back in Windermere after 16-year-absence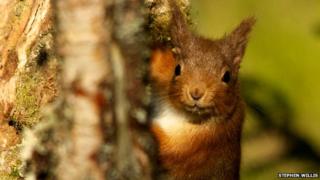 Red squirrels have been spotted in a Lake District town after a 16-year absence.
Experts said a lack of habitats caused them to disappear from Windermere, but now they are returning to woods in the area.
Bob Cartwright, of charity Westmorland Red Squirrels, said there have even been sightings in the town centre.
Since 1952, 95% of red squirrels have been wiped out in England and Wales.
Mr Cartwright said: "So far this year there have been seven sightings, including just a few weeks ago a red seen bouncing around in Ellerthwaite Square right in the centre of Windermere.
"It is pretty clear that they are here in good numbers."
Disease, habitat loss and competition for food from non-native grey squirrels have been blamed for the decline in reds.