Carlisle city centre revamp given go-ahead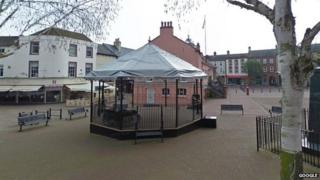 Proposals for a £225,000 revamp of part of Carlisle city centre have been given the go-ahead.
Carlisle City Council want to improve the "welcome" to the area in a bid to "significantly improve" visitor economy.
Plans include a new £50,000 bandstand in the Green Market and installing new signage on all major routes into the city to improve navigation.
The scheme was approved by councillors on Tuesday.
The council said the current bandstand was nearing the end of its "life-expectancy" and needed replacing.