Blencathra sale: New hope for community group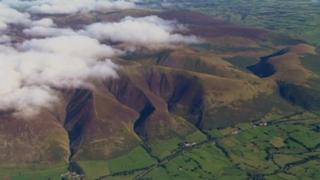 A community group that failed to buy a Lake District fell says it could still be brought into public ownership.
Blencathra was put up for sale by the Earl of Lonsdale last year with a list price of £1.7m.
The Friends of Blencathra put in a bid, but appeared to lose out to an unnamed party.
However, negotiations remain ongoing with the Earl's estate, which is now willing "in principle" to proceed to the next stage of a sale to the group.
Debbie Cosgrove, from Friends of Blencathra, said: "It's a definite step forward.
"Before we were concerned about continuing to fund raise if there wasn't a clearly positive move in sight, but this means we can get back on track with that."
No details were revealed about the selling price as it was "in the hands of the legal team and very commercially sensitive", she said.
She added: "I've learned that this mountain is a very difficult one to climb, so am going to keep the champagne cork in the bottle until the ink is dry on the paper.
"But it's a significant step for us."