Hospital trusts' negligence payouts 'extremely worrying'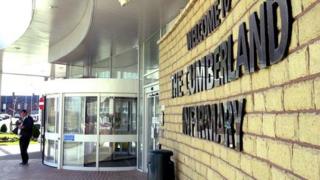 A rise in medical negligence payouts at two health trusts has been described as "extremely worrying".
Between 2008 and 2014, £56m was paid out on behalf of Cumbria's hospitals.
The Medical Defence Union, which insures private practitioners, said it highlighted a problem nationally in the NHS.
North Cumbria University Hospital Trust said the payments "could not be seen as a measure of how many incidents occurred".
The trust which manages Carlisle's Cumberland Infirmary and Whitehaven's West Cumberland Hospital, paid out £23m between 2011 and 2014, up from £7m in the three years previously.
The University Hospitals of Morecambe Bay Trust, which runs Furness General in Barrow and other hospitals in Lancashire, had a figure of £17m between 2011 and 2014, an increase on the £9m for 2008 to 2011.
Dr Matthew Lee, of the Medical Defence Union, said: "I think these figures for Cumbria are extremely worrying and give a very clear example of what is happening all across England.
"Claims across the country are rising by 10%. That really is not sustainable."
'Repeated mistakes'
A spokeswoman for North Cumbria University Hospitals NHS Trust, said compensation claims were "reducing overall" and added: "A number of these payments were made a significant time after the incident occurred and therefore cannot be seen as a measure of how many incidents have occurred during this time period."
Mary Aubrey, director of governance at University Hospitals of Morecambe Bay NHS Foundation Trust, said: "When things go wrong, it is important patients and their families are listened to, that we recognise their concerns, apologise for any suffering caused and act to prevent repeated mistakes.
"It is also right that people receive compensation and financial support when mistakes have had a serious effect on their lives."
NHS England and the NHS Litigation Authority declined to be interviewed by BBC Cumbria.