St Bees school rescue plan a 'risk to pupils'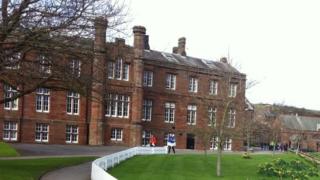 Governors of a 400-year-old boarding school have dismissed a plan to keep it open for a year, saying it poses an "unacceptable risk" to students.
The board of St Bees in west Cumbria has previously said it will close the school due to dwindling student numbers.
A rescue group had hoped to re-open it with their plan which included pledges of £2m from supporters.
But governors said they were sticking with their "agonising" decision.
'Chaotic shutdown'
Members of the rescue group said they have not yet been told the decision by the school governors.
In a statement on the school website, the governors said: "The limited security offered by this one year plan would expose pupils, parents and staff to an unacceptable level of risk.
"Both governors and the rescue group recognised at the start of their conversations that short-lived hope would be a very bad outcome.
"Trying to keep going could lead to the terrible scenario of a chaotic shutdown."
In response, the rescue group said: "The school communication was despatched without our knowledge during the deliberation between governors and ourselves, the rescue team.
"The rescue team were not aware of its content, were not aware of its release and are in no way in agreement with it.
"The release of this letter is a clear indication to us as to their intentions."