Fire breaks out at Flimby timber yard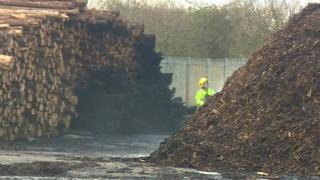 A fire at a timber yard in west Cumbria might not be fully extinguished until Thursday, the fire service has warned.
The blaze broke out at Thompson's in Flimby near Maryport on Tuesday evening.
At its height, 10 engines and more than 50 firefighters were at the scene, with water having to be pumped in from almost two miles away.
An investigation is under way into the cause, although early indications are that it was accidental.
John Wall, from Cumbria Fire and Rescue Service, said: "There's a large amount of wood chippings and bark and while it appears as though the fire is out, we know that underneath that it will still be burning away."
Fire crews will remain at the scene overnight.