Pirelli pleads guilty over George Falder oven death failure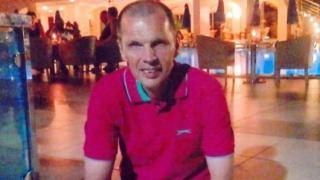 Tyre maker Pirelli has been fined £150,000 after an employee died when he became trapped in an industrial oven.
George Falder, 48, from Carlisle, was found dead in a machine used to heat tyres to temperatures of up to 150C.
Carlisle Crown Court heard Pirelli admit failure to ensure its workers' safety. The company was fined and ordered to pay £46,700 of costs.
The Health and Safety Executive (HSE) said his "tragic death" in 2012 had a devastating impact on his family.
The HSE brought criminal proceedings against the company after an investigation found it did not have a system for checking the autoclave - in which the tyres were heated - before it was switched on.
The court heard that just over one hour after Mr Falder was last seen on CCTV a colleague shut the door on the autoclave and began the operating cycle.
His body was later found inside.
The HSE investigation found employees would occasionally enter the autoclave to retrieve fallen rubber beads when the pressure-door was open between cycles.
Investigators said Pirelli had failed to identify the autoclave as a confined space posing a "serious risk" and there was no system for checking the autoclave before the door was shut and the operating cycle was started.
Speaking after the hearing, HSE inspector Michael Griffiths, said: "Pirelli failed to identify the risk posed by workers entering the autoclave.
"They should either have prevented access, or made sure that the autoclave was properly checked each time before the door was closed and the operating cycle started.
"If either of these policies had been implemented then Mr Falder's death might have been avoided."
Pirelli has made significant changes to the autoclave operation at its site on Dalston Road since the incident.
An inquest into Mr Falder's death in 2013 recorded a verdict of accidental death.