Workington solar farm plan rejected by Allerdale Council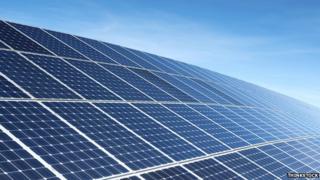 Plans for a 20,000-panel solar farm in Cumbria have been rejected.
Solar Park Developments applied for permission to develop a 14-hectare site in Workington for a 25-year period.
Allerdale Council's development panel voted by six to five against the scheme after fears were voiced it would make the landscape overly industrial.
Solar Park Developments said it planned to appeal against the decision over the site at Moor House Farm, between High Harrington and Lillyhall.
Council officers had recommended the plan be approved.
Fifteen letters of objection were submitted with concerns over the impact on wildlife and the forest environment.
Further worries focused on the potential noise that could be generated by the panels and the amount of electricity they would generate.
Amy Cooper, of Pegasus Planning Group Limited, which represented Solar Park Developments, said: "I am saddened by the decision. I think this is a fantastic site that is very well screened with existing woodland."
David Colborn, chairman of Friends of Rural Cumbria's Environment, said: "We are opposed to inappropriate developments that affect people's visual and residential amenity and have an impact on the landscape."