Cumbria Constabulary confirms call-handler job cuts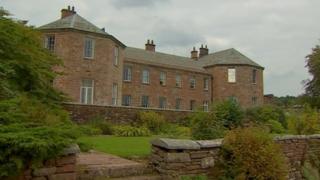 Cumbria Police has announced more than 50 call handlers' jobs are to be axed and their work done by police officers.
In January the force announced it was reviewing a number of areas in order to make £10.8m of savings by 2017/18.
Following formal consultation, the force is changing the way its control room is operated, resulting in the loss of 54 jobs.
Deputy Chief Constable Michelle Skeer, said the changes were "challenging" but "required" due to the funding cuts.
The force said "every effort" would be made to reduce compulsory redundancies by redeploying staff into other roles where possible and considering voluntary redundancy applications.
Unison North West regional organiser, Dave Armstrong, said: "Cumbria's plans will worsen the call-handling service, cost more and reduce the number of bobbies on the beat, which in turn will worsen the service to the people of Cumbria.
"The force already has a dedicated, experienced and skilled team at Carleton Hall who are now threatened with redundancy."
'Remain committed'
The new command and control centre, which will be operational by April 2016, will see calls handled by police officers.
Bosses claim the move saves officers they would otherwise not be able to afford to keep and allows them to "retain and utilise" their skills and experience.
It was not the case that officers working in control would otherwise be on the streets, the force said.
Mrs Skeer said the move ensured Cumbria had a "viable police force" during a "challenging financial time".
She said: "We stand by this commitment and we have now made some key decisions which will enable us to continue to provide the best policing service we can afford for the people of Cumbria.
"We remain committed to keeping a Cumbrian police force for Cumbrian people."
In January, Chief Constable Jerry Graham announced officer numbers would be reduced by 155 posts, from 1,132 to 977.
It is forecast that officer and staff numbers will be reduced by 2018/19.