Swab left in patient after Cumbrian hospital operation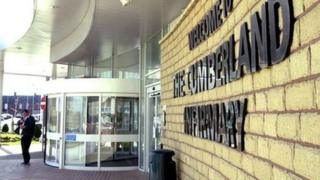 A hospital patient had a swab left inside them after an operation at a Cumbrian hospital while another underwent a procedure on the wrong leg.
The incidents, reported by North Cumbria University Hospitals NHS Trust, are believed to have occurred at Carlisle's Cumberland Infirmary.
Such incidents are classified as "never events" by health chiefs because they should never occur.
The trust said it was working to prevent further occurrences.
NHS England classifies never events as incidents that are "wholly preventable" and have the "potential to cause serious patient harm or death".
The trust reported four in 2013/14 and five in 2012/13.
The procedure carried out on a patient's wrong leg was believed to be a transfemoral angiogram which involves injecting a dye into an artery through a catheter.
Dr Jeremy Rushmer, medical director, said: "In line with the national reduction, the trust had two never events compared to five in 2012/13.
"We recognise that this is still unacceptable and as part of our commitment to providing a safe service to all of our patients we actively encourage all of our teams to openly report incidents, no matter how big or small, so that we can continue to learn and, as far as possible, prevent any similar incidents from occurring again."
There were 308 never events nationally in 2014/15, according to provisional figures from NHS England.