Poppi Worthington death: Key dates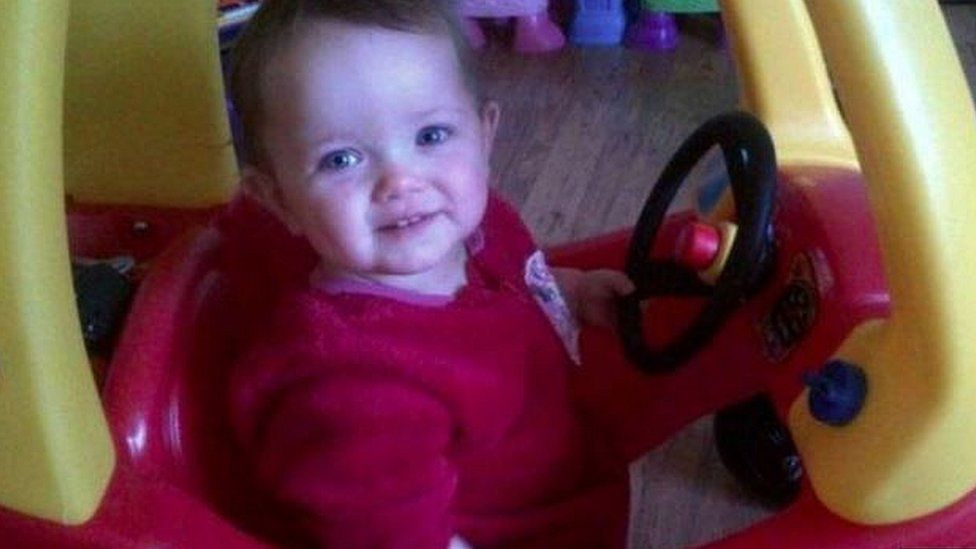 Here are the key dates in the long-running investigation into the death of Poppi Worthington in Cumbria.
December 12, 2012: Poppi Worthington dies aged 13 months in hospital. It triggers a police investigation and her father Paul and a 30-year-old woman are arrested
February 2013: Former coroner Ian Smith opens and adjourns an inquest into Poppi's death, during which no records were taken
March 2014: The High Court refuses to make public a fact-finding judgement surrounding Poppi's death
April 2014: Cumbria Local Safeguarding Board launches a serious case review
July 2014: Media organisations, including the BBC, fail to persuade a judge to make the fact-finding judgement public after Cumbria County Council asks for details about Poppi's death to be withheld for 15 years
July 2014: The Independent Police Complaints Commission (IPCC) begins an investigation
October 21, 2014: An inquest lasting just seven minutes, determines Poppi's death is "unexplained". No other details are revealed
November 2014: Media organisations again fail to get court restrictions on publication of the fact-finding judgement lifted
January 2015: Senior coroner David Roberts asks the Attorney General to grant a fresh inquest into Poppi's death
March 2015 - Cumbria Police say Poppi's father and the woman arrested over her death will not face criminal action
April 2015: A further attempt by media groups to have details of Poppi's death made public fails
April 2015: The High Court agrees to an application from Poppi's father for medical evidence surrounding her death to be re-examined
November 2015: Family Court judge Mr Justice Peter Jackson criticises Cumbria Police and the county council over their handling of Poppi's case
November 2015: Some details of Poppi's death are made public and highlight police failings, including not preserving items for forensic testing
November 2015: Retired detective Mike Forrester, who was one of those in charge of investigating Poppi's death, admits mistakes were made
November 2015: Family Court hears of "astonishing incompetence" of police investigating Poppi's death
December 2015: Conflicting theories heard in Family Court hears by experts over whether Poppi was sexually abused before her death
December 2015: Lawyers acting for Poppi's father Paul tell the court that evidence suggested he had not abused his daughter
January 2016: High Court family judge Mr Justice Peter Jackson made public his ruling that on the balance of probabilities Paul Worthington did sexually assault Poppi shortly before her death
January 2016: Ex-justice minister Sir Simon Hughes calls for a criminal investigation to be reopened into Paul Worthington
February 2016: A leaked Independent Police Complaints Commission (IPCC) report calls Cumbria Police's investigation into Poppi's death "unstructured and disorganised"
February 2016: The government says it cannot order the release of the full IPCC report as requested by Barrow MP John Woodcock because it could jeopardise a fresh inquest
March 2016: A pre-inquest hearing is held by the Cumbria coroner to determine a date and details for a full inquest
June 2016: The Cumbria Local Safeguarding Children Board carries out a review and finds that family members could have have been offered more support because of a "complex history". The report also queries Poppi's mother's ability to protect her family
July 2016: The CPS announces there is insufficient evidence to charge Poppi's father over her death, while Cumbria Police said it "deeply regrets" the way its investigation was handled
September 2016: A second inquest is suspended, pending a review of the case by the CPS
October 2016: A police officer demoted over the investigation retires
November 2016: The CPS upholds a decision not to bring charges over Poppi's death
March 2017: The full IPCC report is published listing a catalogue of failings by Cumbria Police
November 2017: The second inquest into her death lasts three weeks and almost 40 people are called to give evidence. Poppi's father refuses to answer 252 questions citing his right under rule 22 of the Coroners and Justice Act not to incriminate himself
January 2018: The coroner rules Poppi was sexually abused by her father before she died, and her death was caused by asphyxia
March 2018: The Crown Prosecution Service says there will be no further review into Poppi's death.
Related Internet Links
The BBC is not responsible for the content of external sites.