Ex-Cumbria police chief Stuart Hyde speaks of coma recovery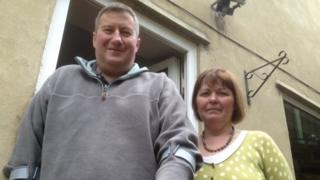 A former police chief constable who spent a week in a coma after contracting meningitis has spoken about his near-death ordeal.
Stuart Hyde was hours away from death when he was found lying unconscious in a hotel room in Abu Dhabi in April.
He is now having to learn how to walk again after spending six weeks confined to bed.
Mr Hyde, who held the top job at Cumbria Police, spoke to BBC Cumbria from his home in Otley.
He had gone to Abu Dhabi to run a training course but contracted meningitis and septicaemia and collapsed in his hotel room.
A friend, who was concerned that he could not contact Mr Hyde, alerted the hotel who opened his room.
Mr Hyde said: "I was on the floor completely unconscious and in a bit of a mess.
"Paramedics worked on me for an hour before taking me to Sheikh Khalifa hospital.
"I returned to life about a week later. I woke up and there was my wife. I was thinking 'She shouldn't be here, something must have gone wrong?'
"I was exceedingly lucky there was intervention. If I'd been left in the room for another couple of hours I would be returning from Abu Dhabi in a box."
He lost four stone in the first three weeks, including much muscle, and relies on walking aids to get about.
Mr Hyde said: "How I've survived I don't know but somebody or something is looking after me.".
He said he is exceedingly grateful to the medical team that saved his life but also family, friends and colleagues who have offered him support.
His wife Caroline said; "The most important thing in life is family and friends, you don't realise how fragile it is until something like this happens."