1971 message in a bottle reunited with Carlisle man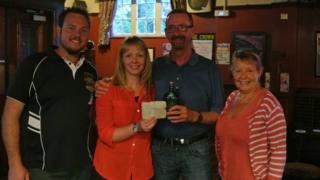 A man has been reunited with a message in a bottle he wrote 44 years ago after it was found washed up in Scotland.
Australian couple Sean and Shelley Thomas found it in a sand dune at Rattray Head on the north-east coast.
The note inside is dated 15 January 1971 and was written by then 14-year-old Raymond Davidson from Carlisle at the start of the 1970s.
Mr and Mrs Thomas tracked down Mr Davidson and his wife Denise after a social media campaign to find him.
Mrs Thomas said Mr Davidson has given it to the couple to take back to Brisbane as a souvenir.
He said he was "overwhelmed" by the social media campaign and he has had more friend requests since it started than when he opened his account.