Third Astute submarine Artful sets sail for sea trials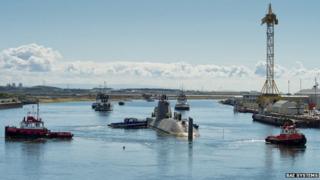 The third Astute Class submarine built at a Cumbria shipyard for the Royal Navy has set sail for its sea trials.
HMS Artful, a 97m-long (318ft), 7,400-tonne, nuclear-powered vessel is one of seven being built by BAE Systems.
The sea trials with the Royal Navy put the submarine through its paces, proving all of its systems before it officially becomes part of the fleet.
Tony Johns, managing director of BAE Systems Submarines, said everyone involved should feel "immensely proud".
The vessel, built in Barrow, completed its maiden dive last year.
The first two submarines in the Astute class, HMS Astute and HMS Ambush, were handed over to the Royal Navy.
Four others - Audacious, Anson, Agamemnon and the yet to be named seventh - are in various stages of construction.
They are capable of circumnavigating the world without the need to resurface.
Artful will follow its sister submarines to Her Majesty's Naval Base Clyde in Scotland.