BAE £300m submarine shipyard redevelopment gets under way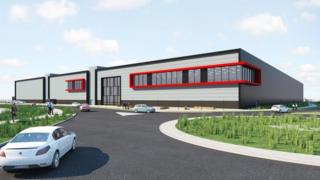 Work is under way on the first phase of a £300m investment in BAE Systems' submarine shipyard in Cumbria.
The eight-year redevelopment in Barrow, being funded by the Ministry of Defence (MoD), paves the way for the Successor submarine project.
Construction has now started on a new 28,000 sq m £23m storage unit, which will house submarine parts on the site.
Defence minister Philip Dunne said it was an "important step" in the project, which will secure thousands of jobs.
The move is expected to include 850 contractor jobs, BAE Systems said.
The Successor vessels are due to replace the Vanguard fleet, which currently carry the missiles.
BAE expects to start building the first Successor submarine in September 2016.