Lake District up for UNESCO World Heritage status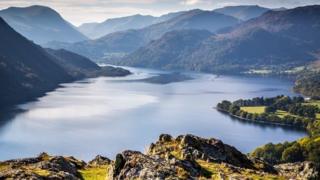 The Lake District has become the UK's latest nomination for UNESCO World Heritage site status.
The area - famous for farming, walking and inspiring poets - is the only applicant put forward by the government for consideration for the cultural landscape award in 2017.
The United Nation's cultural agency will make a decision next summer.
Supporters said becoming a UNESCO site would bring in more tourists from around the world.
Heritage minister David Evennett said: "Not only would this formally recognise Cumbria's unique identity, but [it would] also provide a significant boost to the local tourism industry and encourage even more visitors to this vibrant area."
'Outstanding universal value'
The Lake District World Heritage Project, which is running the bid, said just a one per cent increase in visitor numbers would equate to an extra £20m for the local economy.
Henry Owen-John, from Historic England, said: "The historic landscape of fells and valleys, enhanced by stone walled farms, fields and upland grazing, is as beautiful and inspirational today as it was to Wordsworth.
"It is in our view of outstanding universal value to all humanity."
There are 29 World Heritage sites in the UK, including Hadrian's Wall which runs across Cumbria and neighbouring Northumberland.