Dredging 'not simple answer' to Cumbria flooding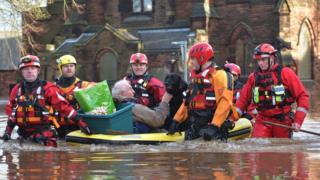 Dredging rivers is not a simple answer to solve Cumbria's flooding problems, the county's top Environment Agency representative has warned.
Keith Ashcroft, area manager for Cumbria and Lancashire, said dredging was often put forward as a solution but it was a "complicated" issue.
But he said the alternative of building "higher and higher" defence walls was not what people wanted.
More than 5,500 properties in the county were flooded last December.
Mr Ashcroft told BBC Cumbria the organisation conducted annual surveys to assess which areas would benefit from dredging and that in "certain circumstances" the process has a positive impact.
'Array of issues'
He said: "On slow-moving, relatively flat rivers that can make a significant difference. What we have in Cumbria are very high energy, steep rivers so it's a different situation.
"We've seen huge amounts of material being moved around on the river system and have been very active in Kendal and Keswick and other places removing gravel so it will maintain the capacity of the channel.
"The volumes of water are immense. Carlisle had 1,700 cubic metres of water coming through a second at peak. It was a record for England.
"You'd have to move or dredge an immense amount of material.
"We did an assessment after 2009 for Cockermouth and it was 5m deep for eight miles. That raises a huge array of issues and in terms of costs."
Dredging removes the silt that builds up at the bottom of rivers and deepens the channel. Some people say it helps prevent flooding by making the water flow faster and more efficiently.
Mr Ashcroft added solutions must include a "better understanding of how river catchments operate" and the effects of draining upland fields.
Trustees of an appeal fund last month warned that Cumbrian victims of the floods would need help into 2017.