Energy firm fraudster James Cox jailed for £40k scam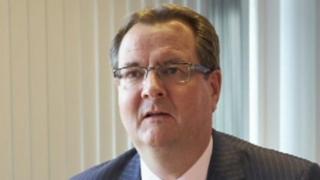 A serial conman who defrauded an energy firm of £40,000 after lying to get a job as its finance director has been jailed.
James Cox concocted a CV and references to land the role and £65,000 salary at Britain's Energy Coast (BEC).
He had been jailed twice before for fraud, including five years for for taking £2.8m from an employer to supposedly set up a racing team.
The 51-year-old was sentenced to six years for his most recent crimes.
He admitted six offences at a previous hearing, including committing fraud to get the job, obtaining the money through fraud and four counts of transferring criminal property.
Carlisle Crown Court heard Cox bought a Jaguar car after forging a signature for a loan agreement in May 2015.
He fraudulently obtained £40,687 from BEC, which is based in Whitehaven, Cumbria.
'Gentleman racer'
An audit highlighted concerns and he left the firm in August.
Cox, who was living in a budget hotel in Weston-super-Mare at the time of his arrest, was sentenced to a five-year jail term in 2000 after taking £2.8m from publishing firm McGraw-Hill to set himself up as a "gentleman racer".
Registering a number of "ghost" companies, he billed McGraw-Hill for services rendered and used the money to buy luxury sports cars including Ferraris, Aston Martins and McLarens.
He passed himself off as the founder of a racing team and staged a launch event attended by a number of celebrities.
In 2007, he was again jailed after fraudulently taking almost £500,000 from the Automotive Skills charity where he was working.
BEC is jointly owned by the Nuclear Decommissioning Authority, Allerdale Borough Council, Copeland Council and Cumbria County Council.