Haverigg prison legal high drug death 'almost inevitable'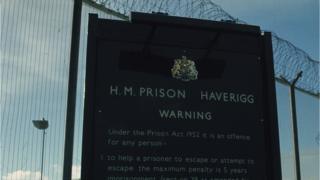 A fatality caused by legal highs such as Spice is "almost inevitable" at a prison in Cumbria, a prison watchdog has warned.
The Independent Monitoring Board (IMB) said the use of new psychoactive substances (NPS) at HMP Haverigg was widespread.
Chairman Mick Ross said prisoners were "very inventive" and got drugs into jail "in the most amazing ways".
The Prison Service said it took a "zero tolerance approach to contraband".
It added it worked to "prosecute those involved".
'Unending war'
Mr Ross said "great efforts" were made by prison staff but they "fought an unending war" against the importation of illegal drugs.
"A lot of this stuff comes over the fence and how do you stop stuff coming over the fence - you need lots and lots of people, very good security and, of course, that costs money and at the moment, of course, the whole country's struggling for cash," he said.
Spice - a type of NPS - is a synthetic cannabis substitute and is known to induce psychotic episodes, heart attacks and seizures.
Its use has "helped generate an upsurge in violent behaviour" at Haverigg, Mr Ross said.
'Thinly spread'
"More frequent incidents of prisoners collapsing under the influence" of the drug had also had an affect on medical staff, he said.
"Thinly spread" ambulance services in rural parts of Cumbria meant paramedics might be unable to respond quickly to calls from the prison, which "leads to concerns that, in the fullness of time, a death from NPS abuse is almost inevitable," he added.
However, the report concluded that, overall, prisoners were well-cared for.
HMP Haverigg is a Category C prison holding up to 654 inmates.