Great North Swim: 10,000 expected for Windermere open water challenge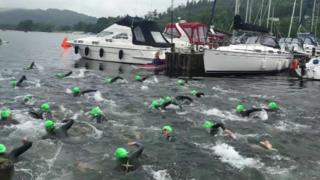 Thousands of swimmers have headed to the Lake District this weekend to take part in the Great North Swim.
Most swimmers will take to the waters of Windermere to swim a mile (1.6Km) with some longer swims scheduled for Sunday.
The event is expected to attract 10,000 swimmers, organisers said.
A 10k marathon distance has also been introduced and is expected to take experienced swimmers four hours to complete.
Great Swim Director Alex Jackson said: "The Great North Swim is proving to be as popular as ever, with 10,000 expected in Windermere for our ninth event here."
Introducing the "10k event will provide a new challenge" he added.