Cumbria County Council spends £400,000 on agency staff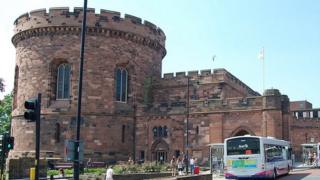 A lack of suitable candidates to fill vital roles at Cumbria County Council has cost the authority hundreds of thousands of pounds on agency staff.
Over the past year it spent £400,000 on three temporary posts, BBC Radio Cumbria has learned.
All were in the adult social care department, which needs to save about £24m over the next three years.
The council blamed stiff competition across the north of England for a lack of quality candidates.
'Obscene amounts'
Dominic Donnini, the council's acting chief executive, said: "When it's a statutory post we have to fill it, and sometimes we have to bring in consultants to do that.
"But we're not the only organisation across Cumbria having difficulties finding the right staff - BAE, Sellafield, Glaxo, they all struggle."
He added that two of the posts had now been filled permanently.
Anita Timperon, from the public service union Unison, said: "I think its very disappointing that the county council has to spend what are obscene amounts of money in pulling people into the authority.
"But they are needed to do essential posts and it's very difficult to recruit to this senior level within the council."