Cleator Moor dog attack victim 'had been bitten before'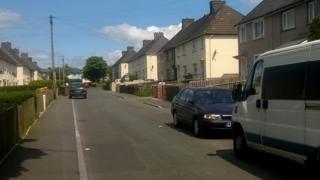 A man who was mauled to death by his dog had been bitten by it twice before, an inquest has heard.
Stephen Hodgson, 45, was attacked by the Staffordshire pitbull crossbreed at his home in Cleator Moor, Cumbria in May.
The father-of-three was passed out through drink when the dog savaged his neck and head. It was dragged off by the victim's two teenage daughters.
The assistant coroner for Cumbria recorded a narrative verdict.
Cockermouth Coroner's Court was told the animal, Buster, was "normally good natured".
However it had bitten Mr Hodgson twice before - once leading to hospital treatment for a bite to his forearm.
On 22 May, the victim, who was described as a "binge drinker", had consumed a large amount of alcohol and collapsed in his house in Robert Owen Avenue.
'Ferocious attack'
In a statement read to the court, his 17-year-old daughter, Carla, said the dog has sniffed at him, before it was taken outside.
She and her sister Jade, 19, managed to lift their father onto a bed, and the dog was let back into the house.
It then "barged" into the bedroom and bit down on the back of Mr Hodgson's neck, before dragging him to the floor and continuing to maul him, in what was described as a "ferocious attack".
Both daughters said their father had done nothing to aggravate the animal.
Mr Hodgson's right carotid artery and jugular vein were severed and he died of "catastrophic blood loss".
Police Tasered the dog - which is not a banned breed - and it later died.
Robert Chapman, assistant coroner for Cumbria, said: "There is no indication of what caused the dog to do this.
"Clearly it must have been upset by something but we do not have any idea what."