World's Biggest Liar: Maryport man win with Trump story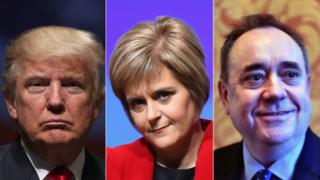 A yarn about US president-elect Donald Trump and submarines made out of giant shortbread tins has won the World's Biggest Liar competition.
Entrants to the annual event have five minutes to tell the biggest and most convincing lie they can.
Winner George Kemp from Maryport, Cumbria was surprised to win as he was "struggling" with a chest infection.
In his story he "ended up bumping into Donald Trump and his wife in an underwater hotel", he said.
"It was a tale about building a small submarine out of my dad's old bubble car," he said.
"We took the bubble car on a trip to the Isle of Man and we bumped into several famous people in a Scottish submarine made out of shortbread tins.
"Nicola Sturgeon and Alex Salmond sold some of these giant shortbread tin submarines to the United States of America."
Last year's winner Mike Naylor, known as Monkey Liar, from Wasdale came second. Helen Jordan came third.
Previous winners include comedian and television presenter Sue Perkins in 2006.
In 2014 one entrant had travelled from Germany to take part.
The annual event is held in front of a panel of judges and an audience at the Bridge Inn at Santon Bridge.
Politicians and those in the legal profession are banned from entering as the rules deem them "too well versed to apply".
The contest dates from the 19th Century and is held in honour of famous fibber Will Ritson, a Wasdale landlord.
He once claimed that the local turnips were so big that people had to "quarry" into them for their Sunday lunch, and they could then be used as sheds for the Herdwick sheep from the fells.