'Rare' freshwater fish filmed in Lake District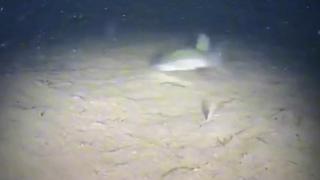 The UK's "rarest freshwater fish" which dates back to the ice age has been caught on camera in the Lake District.
A vendace was filmed by a remote-controlled yellow submarine which was measuring sediment 20m (66ft) deep on the bottom of Derwentwater.
Dr Andy Gowans, from the Environment Agency (EA), said it was "a unique moment".
"Seeing the vendace is a good indication of the lake's health," he added.
The vendace's only UK habitat is in Derwentwater and is an "international conservation priority", the EA added.
Dr Ian Winfield, from the Centre for Ecology and Hydrology, said: "This was an amazing moment for a scientist, I was not expecting to see one, never mind film one."
The agency said the vendace - or Coregonus albula - is the UK's rarest freshwater fish.
It was thought to be locally extinct for 12 years until it was re-discovered in 2013.