Tiger death keeper's partner hopes zoo can continue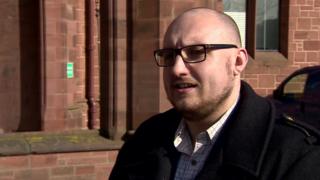 The partner of Sarah McClay, who was killed by a tiger at South Lakes Safari Zoo, hopes the attraction can stay open after its owner was refused a licence.
Cumbria Zoo Company Ltd (CZCL) wants to buy the zoo and end its connection with David Gill, who founded it in 1994.
On Monday, Barrow Council refused Mr Gill a licence to continue running it, amid concerns over animal welfare.
David Shaw said he hopes CZCL, which took over operational control in January, will succeed with its plan.
The zoo remains open but could close within 28 days, unless Mr Gill appeals against the council's decision.
CZCL has been operating the zoo through a six-month leasing agreement with Mr Gill, who remained only as landowner.
It has submitted its own licence application, which is due to be inspected later this month.
In it Mr Gill will have no management, operational or other role.
In a social media posting CZCL said: "Despite the short time in which we have had sole operation of the site, we have developed and mitigated many of the welfare concerns that were inherited when we took over."
---
Zoo's chequered past
May 1997: A three-ton white rhino escapes from its enclosure and goes onto neighbouring land, where it had to be shot. David Gill later fined £10,000 for endangering the public and failing to have adequate barriers
January 2002: Three giraffes that died between September 2000 and September 2001 suffered tetanus, heart failure and vitamin deficiencies. The park changes the food given to the animals
September 2006: A government inspector says escapes at the park are "a matter for concern" and recommends procedures to prevent animals using an overhead walkway as an escape route
December 2008: A faulty electric heater is blamed for causing a fire at the zoo in which 30 lemurs died
May 2013: Keeper Sarah McClay, 24, is mauled by a tiger at the park and later dies in hospital
September 2013: Government inspectors express concern about vet cover, public access to parrot feeding stations and firearms training at the park
June 2016: The zoo admits health and safety breaches in connection with Ms McClay's death and is fined £297,500
February 2017: A report compiled by the local authority shows 486 animals died between December 2013 and September 2016
---
Mr Shaw said of CZCL: "They've come a long way, they have the right enclosures, they mix the right animals and they're looked after in the right way.
"Provided they can prove they do it in a safe manner, the enforcement legislation will require them to do it in a way that's suitable for the animals."