Melinda Korosi murder: Miklos Verebes jailed for life with 28 year minimum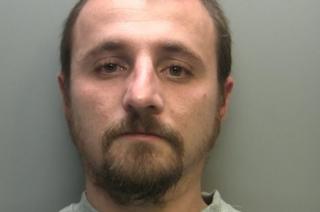 A man has been jailed for 28 years for the brutal murder of his ex-partner and her home.
Miklos Verebes, 29, was found next to the body of Melinda Korosi, 33, and covered in her blood.
A blood-stained rock, broken in two to form a sharp edge, was found at the house in Carlisle where Ms Korosi lived with the couple's two children.
Verebes denied murder but was found guilty at Carlisle Crown Court. He was also convicted of three counts of rape.
Ms Korosi suffered multiple injuries in the attack on 15 September.
Speaking after her killer was jailed, Ms Korosi's parents said she was a talented musician who loved to travel.
They said life felt was "empty and meaningless" without her and that Verebes had "ruined a very promising family".
The jury had heard that in the days before her death Ms Korosi told police he had raped her and she was judged to be at very high risk of domestic abuse.
On the day of the attack, neighbours saw Verebes break into her home in Orton Road and heard her scream.
He told police as they arrived: "It's too late. She's dead."
When arrested, Verebes was said to have told officers: "I know what I did. I wanted to kill her."
However, he then claimed a knife-wielding stranger - who fled before police arrived - had been responsible.
The jury of seven men and five women unanimously found him guilty of murder and three counts of raping Ms Korosi between 2012 and 2016.
Speaking after the sentencing, Det Ch Insp David Pattinson from Cumbria Police said it was a brutal and horrific murder.
He said: "Melinda Korosi was a quiet and unassuming member of the local community. She had a kind nature which was evident by the support shown by those who knew Melinda following her death."