NHS services in Cumbria face shake-up over 'inadequate' care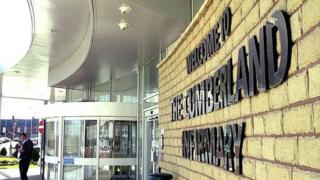 Health bosses in Cumbria have approved major changes to tackle "inadequate" NHS care in parts of the county.
The changes see most acute surgery, children's services and stroke support downgraded at Whitehaven in West Cumbria and centralised in Carlisle.
An expected end to consultant-led maternity services in Whitehaven has been shelved for 12 months pending a review of staff recruitment.
Opponents say they will fight to retain services in West Cumbria.
Health officials began a consultation last year after inspectors raised concerns over patient safety, staffing shortfalls and budget overspends.
Subsequent recommendations from the government-appointed Success Regime came after the Care Quality Commission found there were serious staffing issues and some elements of medical care at Whitehaven's West Cumberland Hospital were "inadequate".
Those recommendations, which also included cutting the number of in-patient beds at nine community hospitals from 133 to 104 - with sites at Alston, Maryport and Wigton having no in-patient beds at all - have now been approved by the NHS Cumbria Clinical Commissioning Group (CGC).
CGC chief executive Stephen Childs said: "We have been very clear about the challenges we face and members of the public have shared their concerns about the risks. We hope we have found a way forward.
"We know it won't be easy, but we also know there is a great energy and passion for the NHS and we want to harness every opportunity to create the best outcomes for Cumbria."
The CGC stressed no changes would be made until "robust plans" were in place.
But midwife Bernadette Bowness said: "Why are people going to move here and uproot their families and come to a job where there are no certainties?
"People need to come to an area and a hospital where there are permanent jobs and where we are not constantly under review.
"We need that stability to make our hospital workable."
Newly elected Conservative MP for Copeland Trudy Harrison said she welcomed the review into maternity services in Whitehaven.
She said: "My pledge to support consultant-led maternity services at WCH remains. I'm very glad that this review which I called for has been launched in my first week."
Cumbria County Council will have a final say on the changes later this month.