Burglar Melissa Ridley wiped faeces on victim's face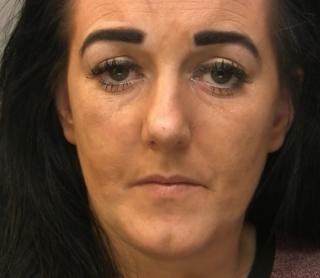 A house burglar who pushed her faeces in to the face of her victim has been jailed for 34 months.
Heroin addict Melissa Jayne Ridley, 31, attacked the woman as she attempted to flee with a stolen handbag and jewellery.
Carlisle Crown Court heard Ridley, from Whitehaven, reached into her underwear and smeared excrement on her victim.
Ridley, who has more than 100 offences on her record, also threatened to stab her.
Ridley, of Richmond Terrace, admitted burglary and causing actual bodily harm, as well as several separate shoplifting offences.
The court heard Ridley's victim, who suffered minor injuries, was left "traumatised".
The woman and a relative detained Ridley, who had been drinking and taken valium, until the police arrived.
Judge Tony Lancaster said Ridley's victim had been left "sickened" by the burglary and attack.
He also imposed a five-year criminal behaviour order.