Sculpture for Carlisle Carr's factory 'cracker packers'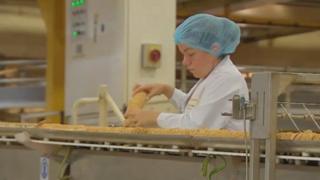 A statue is to commemorate so-called "cracker packers" who worked at a Carlisle biscuit factory.
The £70,000 bronze sculpture will depict two women at work at the city's former Carr's factory, which now makes brands for McVitie's.
Sussex-based artist Hazel Reeves has been commissioned to create the work, which is due to be unveiled on International Women's Day 2018.
The 5ft 4ins (1.6m) statue will be sited next to Paddy's Market car park.
Author Hunter Davies, whose 2014 book "The Biscuit Girls" chronicled the lives of women at the factory, has contributed £5,000 to the cost.
The bulk of the funding will come from supermarket chain Sainsbury's as part of the development of its Caldewgate superstore, with the McVitie's parent company, Pladis, also making a contribution.
Ms Reeves was chosen by a panel made up of civic leaders headed by Carlisle City Council corporate director Jane Meek, who described the artist as "knowledgeable and enthusiastic".
Ms Reeves said: "I am inspired by the warm and vibrant stories of the cracker packers, past and present.
"Such stories of working women's lives rarely make it into formal history yet need to be celebrated and shared with future generations.
"A figurative statue close to the factory, will be engaging and mark the importance of these women workers to the factory, to the community of Caldewgate and to each other."
Factory general manager Mike Heaney added: "We are proud that our factory is part of the fabric of the local community, and this commission reflects and celebrates a key element of Carlisle's distinctive social and industrial history.
"This public art work will help honour those who have helped shaped our town's history, and we can't wait for the unveiling next year."
The factory, which was established in 1831, produces 80,000 tonnes of biscuits a year and employs about 600 people.