HMP Haverigg drug use 'led to bullying and sexual violence'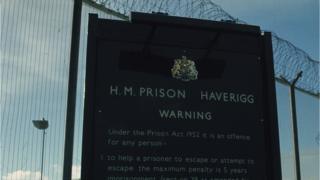 Prisoner use of former so-called legal high drugs led to bullying and sexual violence at a Cumbrian prison, a new report has said.
The Independent Monitoring Board (IMB) found the substances were still getting inside HMP Haverigg, despite the best efforts of prison officers and police.
The watchdog warned in May 2016 that drug use was "widespread" at the prison and a death "almost inevitable".
The Ministry of Justice (MoJ) said a robust drugs strategy was in place.
HMP Haverigg's annual report covers the year from December 2015. In October 2016, three of the seven accommodation units were closed, halving the number of inmates.
In a statement the MoJ said more staff had been taken on with the skills to care for the most vulnerable offenders and that it had closed unsuitable accommodation.
Prisoner 'safety fears'
Lynne Chambers, the IMB's acting chairman, told the BBC "illicit drug misuse was very prevalent" but "things are improving".
The IMB annual report said the associated debt levels, bullying and sexual violence from drug use - and the pressure it had placed on the healthcare staff - had been a highly damaging "game-changer".
This resulted in the closure in October 2016 of unsuitable billeted accommodation, where prisoners had expressed safety concerns.
The report also acknowledged that organisational and regime change, which ran concurrently with the phased reduction in prisoner numbers, placed significant pressures on the establishment.
Despite the pressures, the report found that prisoners were treated fairly and the prison has a positive emphasis on humane treatment.