Rare giraffe born at closure-threatened Cumbria zoo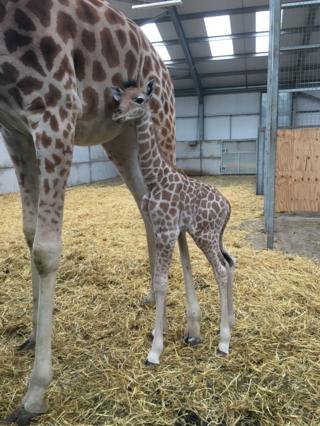 A rare Kordofan giraffe has been born at a zoo which is under threat of closure.
South Lakes Safari Zoo in Dalton-in-Furness, Cumbria said it was the only one in the UK to keep the animals, which are vulnerable to extinction.
Its founder David Gill has been refused a licence amid concerns over animal welfare and the future running of the site is uncertain.
A zoo spokesman said it was "very proud" to have the baby giraffe.
Buyout hope
"Vulnerable to extinction, the captive population of these very rare giraffes is very small and our little ark may be vital for its long-term future," he said.
The zoo remains open but could close by 3 April unless Mr Gill, who founded it in 1994, appeals against Barrow Council's decision not to renew his licence.
Cumbria Zoo Company Ltd, which took over operational control in January, wants to buy the attraction and end its connection with Mr Gill.
It was revealed in February that 486 animals had died there in four years, out of more than 1,500.
A zookeeper was mauled to death by a tiger in 2013.