On-board ticketing reinstated for Windermere ferry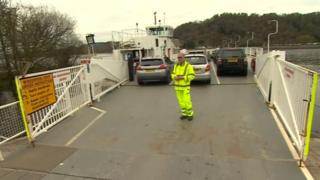 Passengers using the Windermere ferry will once again be able to buy tickets on board, its operators have said.
In June the system was discontinued, with users having to buy tickets from machines at the landings on either side of the lake before boarding.
This led to complaints from some local residents and business owners about delays and confusion.
Operators Cumbria County Council said the new ticket machines had "fallen short of customer expectations".
In a statement it said: "Following feedback, we are in the process of further improving the ticket machines and reinstating staffed on-board ticket payments.
"A member of staff to facilitate on-board ticket payments via a contactless card machine will be reinstated as soon as reasonably possible."
Local businessman Tim Hardy, who has campaigned to bring back on-board ticketing, said he was "cautiously delighted".