Sedbergh School master 'did not have foot fetish'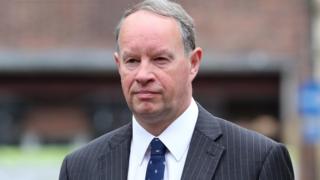 A housemaster accused of sexually touching the feet of two pupils told police he did not have a foot fetish, Carlisle Crown Court has heard.
The Reverend Christopher Griffin denies five charges of sexual assault, alleged to have been carried out at Sedbergh School in Cumbria in 2015 and 2016.
The male pupils, both over 16, said he slipped his hands under their duvets and stroked and squeezed their feet.
Mr Griffin denied doing what he described as "horrendous" things.
The 57-year-old, of Ingleton, North Yorkshire, had worked at the school for 19 years, and was said to be a "very respected" teacher, who was "well liked" by pupils and staff.
During a police interview a detective asked: "People have different fetishes, some people like feet. Is that one of your sexual fetishes?", the court was told.
Mr Griffin said: "No it is not. No, certainly not."
When told that one of the complainants had sent a text saying he was "creeped out" after his feet were touched, he said: "If it did happen I would not blame him.
"But it did not happen. I did not do these things, they seem absolutely horrendous."
He said he thought the pupil was "easily led" and had "joined in the bandwagon in all of this".
The judge ordered the jury to find Mr Griffin not guilty of a sixth count of attempted sexual assault because of insufficient evidence.
The trial continues.