Sedbergh School master cleared of sexual foot touching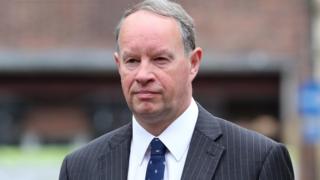 A boarding school housemaster has been cleared of touching the feet of two teenagers for sexual gratification.
The Reverend Christopher Griffin was accused of "stroking and squeezing" the feet of the pupils at Sedbergh School in Cumbria, in 2015 and 2016.
The 57-year-old, of Ingleton, North Yorkshire, said he had only touched their feet to check up on them.
He was found not guilty of five counts of sexual assault following a four-day trial at Carlisle Crown Court.
During the hearing, the male pupils, both over 16, claimed they were pretending to be asleep when he came into their rooms and placed his hand under their bed covers.
One described being "freaked out" after feeling him breathing on his feet.
'Harrowing 13 months'
However, Mr Griffin - a former chaplain at the school who also taught religious studies and philosophy and ethics - said he touched the foot of one to make sure he was in his room and shook the foot of another "to check he was alive".
Speaking after the verdict, he said it had been a "harrowing 13 months", and thanked his colleagues, friends and wife of 35 years.
"I am enormously grateful and I am now looking forward to getting back to normal and rediscovering the purpose of my life", he said.
Andrew Fleck, head master of Sedbergh School, said: "We are pleased that the court has returned a not guilty verdict after a formal and transparent investigation.
"We are committed to the highest standards of safeguarding for pupils at Sedbergh School and will continue to work with the appropriate authorities in this aim."
Sedbergh School was founded in 1525 and is an independent co-educational boarding school, charging fees of up to £10,590 a term.
Former pupils include rugby star Will Carling; former Bishop of Durham, the Right Reverend Tom Wright; and Simon Beaufoy, who wrote the screenplay for The Full Monty.