Maryport factory fire: Blaze 'extremely challenging'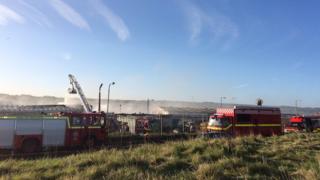 A major factory blaze was one of the largest that local crews had dealt with in years, a fire service has said.
Firefighters have been dealing with "pockets of fire" at a factory which makes artificial turf on an industrial estate in Maryport, Cumbria.
The blaze broke out on Tuesday and at its height smoke could be seen up to 30 miles away.
Cumbria chief fire officer Paul Hancock said it had been "very severe and extremely challenging".
"The incident required a significant and sustained response from our firefighters, and support of colleagues from Sellafield and other agencies," he said.
More than 60 firefighters were called to the SIS Pitches factory on Glasson Industrial Estate.
Cumbria Fire and Rescue Service repeated warnings to nearby homes and businesses to keep doors and windows closed.
Firefighters spent the day dealing with the remaining hotspots.
"Although the plume of smoke has died down dramatically" it was still coming from the site on Wednesday, a fire service spokesman said.
Because of the "severity and intensity of the fire" crews had not initially been able to get close enough to begin an investigation into what caused it, he added.
At its height 12 fire engines, two aerial ladder platforms and a number of specialist units were needed.
Electricity supplies to surrounding properties have been restored after the fire damaged a substation.