Ulverston post office closure petition taken to parliament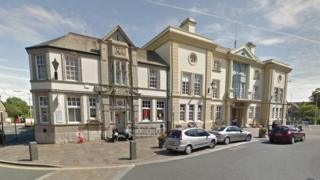 A petition against the threatened closure of a crown post office has been handed in to parliament.
The Ulverston branch is one of 37 the Post Office plans to close and franchise to cut costs.
Barrow and Furness Labour MP John Woodcock, who presented the petition to the Commons, said it had been "an essential part of community life" for more than 100 years.
Post Office Ltd said it wanted to safeguard services in the town.
A six-week public consultation would be held once there were detailed proposals for the branch, a spokeswoman said.
'Worn shoes out'
The Communication Workers Union said in January that 300 jobs and 127 specialist roles would be lost because of the closures.
The union held a five-day strike before Christmas and two 24-hour walkouts earlier last year in a dispute over branch closures, job losses and pension provision.
Franchising the Ulverston branch could involve it moving into a shop in the town.
The Post Office spokeswoman said: "The vast majority of Post Offices, both large and small, are already franchised - it's a successful way of supporting both Post Office services and retail businesses."
Residents were "devastated" the branch was under threat of closure, Mr Woodcock said.
Protester Malcolm Tyson said he had "worn a pair of shoes out" walking about 500 miles to raise support for the petition, which had 7,846 signatures.