Bethany Ostle crash: Driver Derran Johnston jailed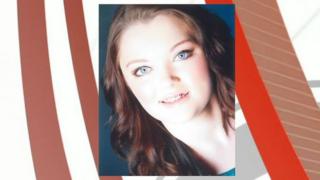 A man who killed his girlfriend and left another driver hurt in a crash on Christmas Eve in 2015 has been jailed for a year.
Bethany Ostle, a passenger, died hours after a two-car crash on the Tallentire to Gilcrux road near Cockermouth.
Derran Johnston, 19, from Charles Close in Workingon, admitted causing Miss Ostle's death by careless driving and was jailed at Carlisle Crown Court.
Miss Ostle was described in court as a "lovely, bubbly, happy, outgoing girl".
'Too fast'
In separate statements the 17-year-old's father Jonathan, and mother Alison, each said they had been handed "life sentences" following their daughter's death.
Johnston, who has also been banned from driving for three years, said he had been "deeply affected" by the crash and his remorse was "genuine".
He had been going "too fast" at the bend and told police: "I think I pressed the accelerator instead of the brake".
The man who was driving the oncoming Mini was seriously hurt in the crash.
"The consequences have been devastating," said Judge Tony Lancaster. "Christmas will always carry the shadow of Bethany's loss of life over it."