Replacement for flood-damaged bridge in Staveley opens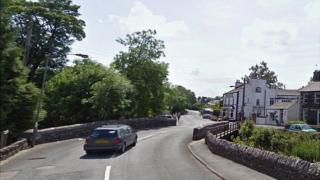 A replacement bridge for one virtually destroyed in Cumbria during the Storm Desmond floods has opened.
Old Gowan Bridge, which links the village of Staveley, near Kendal, with the A591, was damaged beyond repair in the December 2015 floods.
Cumbria County Council has spent £500,000 on a rebuilding the structure, using some of its original stonework.
The new design allows more water to flow beneath the bridge, reducing the risk of future damage.
A council spokesman said: "The new structure has been designed to increase resilience by adopting a robust, mainly concrete, construction and by increasing the volume of water that can flow beneath the bridge than was the case previously.
"The bridge parapets and abutments have been faced with stone, some from the original bridge structure, to ensure the structure's appearance is in keeping with the surrounding area.
"A huge amount of work has gone into the planning, design, construction and delivery of this project.
"The loss of Old Gowan Bridge during Storm Desmond has had a significant impact on the local community and I would like to thank people for their patience and understanding during this difficult period."