Police watchdog probes murder officers' conduct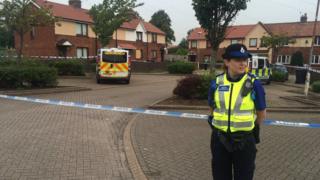 Two police officers are being investigated over possible misconduct in the run-up to a woman's murder.
Melinda Korosi, of Carlisle, was killed by her ex-partner Miklos Verebes in September 2016.
The Independent Police Complaints Commission (IPCC) said there is an "indication of misconduct" by a detective constable and detective sergeant.
Cumbria Police said it would co-operate fully with the inquiry.
Shortly before her death, Ms Korosi told police Verebes had raped her and she was judged to be at very high risk of domestic abuse.
The Hungarian national denied murdering the 33-year-old, but in March he was jailed for life after being convicted by a jury at Carlisle Crown Court.
He was also found guilty of three counts of rape.
The 28-year-old was found next to the body of Ms Korosi, covered in her blood.
A blood-stained rock, broken in two to form a sharp edge, was found at the house where Ms Korosi lived with the couple's two children.
The IPCC investigation began soon after her murder and is looking at the contact she had with police, including any measures taken to safeguard her welfare and the actions taken after she reported being raped and assaulted.
Cumbria Police, which made a referral to the watchdog following Ms Korosi's death, said neither officer has been suspended but both are performing different roles.