Queen's honour for 'dedicated' Cumbria special constable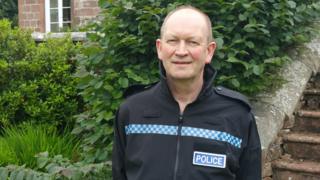 A special constable from Cumbria has been recognised in the Queen's Birthday Honours list.
Brian Murphy will receive the British Empire Medal for services to policing.
The 61-year-old, from Brampton, retired five years ago after 32 years with the Cumbria force and straight away volunteered as a special constable.
His nomination described him as a well-known face in his rural local community and praised his experience, approachability and commitment.
It also said: "He is a respected officer who seeks to help others and demonstrates the best values of policing in all his engagements with the public.
"He often is reluctant to take credit, preferring to support lesser-experienced colleagues in their development and enabling them to grow in confidence."
Cumbria's Chief Constable Jerry Graham said: "This is a fantastic achievement and is an acknowledgement of Brian's unwavering dedication, professionalism and hard work."
Police and Crime Commissioner Peter McCall added: "His dedication is an excellent example of the work that special constables do to serve our community."