Flowers mark 70th anniversary of Kurt Schwitters artwork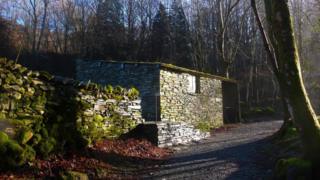 The 70th anniversary of a work by an artist who settled in the Lake District, after being dubbed a "degenerate" by the Nazis, is being marked by flowers.
Kurt Schwitters moved to Ambleside and was given the use of a former gunpowder store in Elterwater as a studio.
In 1947 he began transforming one wall of this "Merz Barn" into a sculpture, using found objects, plaster and paint.
There will be a series of events, and the barn will be covered with flowers.
People are being invited to bring blooms and their own artworks for the Sunday event.
There will also be talks, musical performances, and a reading of "Anna Blume", a poem Schwitters wrote in 1919, which cemented his reputation as a leading experimental artist.
Schwitters, who has since has been credited with influencing modern-day artists such as Damien Hirst and Antony Gormley, died penniless in 1948.
The unfinished Merz Barn artwork was left on site, neglected until the 1960s when it was removed to be put on display at the Hatton Gallery in Newcastle.
His former studio, which he once hoped to turn into a modern art grotto, is now looked after by the Littoral Arts Trust, which has organised the weekend's events.