Carlisle Airport plans passenger flights after £5m boost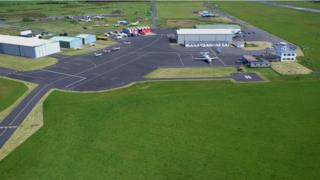 A regional airport is planning to start passenger flights after receiving nearly £5m to upgrade its terminal and runway.
The Stobart Group, which runs Carlisle Lake District Airport, plans routes to London, Belfast and Dublin.
Chief executive Andrew Tinkler said the money was a "catalyst" to start the flights.
Cumbria Chamber of Commerce chief executive Rob Johnston said the airport was "crucial to growth ambitions".
It had the "potential to become a strategically significant logistics hub," he added.
"It could also enable a number of sectors to move freight by air, therefore reducing congestion on the road and rail network."
Mr Tinkler said commercial flights would start next year.
"If you look at the tourism in this area it's massive, it's probably second biggest after London so I think through the summer it'd be very busy," he added.
The £4.75m has been awarded by Cumbria's Local Enterprise Partnership (LEP), which allocates government development money.
LEP director Graham Haywood said the upgrade would make the airport "an attractive location for those visitors coming in and businesses wanting to connect out".
In 2014, the Stobart Group was given permission by Carlisle City Council to redevelop the airport, safeguarding 800 jobs.
The site is currently a base for private aircraft and flying schools and has an aircraft maintenance facility.