Pair jailed over Appleby Horse Fair battle plot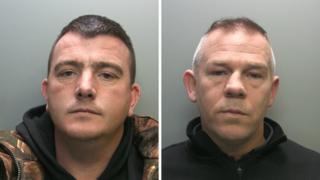 Two men who led groups "determined to exact considerable violence" at one of Europe's biggest fairs for travellers have been jailed for three years.
Alan Tunney and James McPhee had goaded each other in YouTube videos in the run-up to 2016's Appleby Horse Fair.
At Carlisle Crown Court, Tunney, 33, of Doncaster, and McPhee, 43, of Larkhall, South Lanarkshire, admitted conspiring to commit violent disorder.
The pair were also banned from the fair for 10 years.
The court heard they had planned to confront each other in a bare-knuckle brawl.
'Serious injury'
Tunney was detained by police on the A66 at the head of a 15-vehicle convoy and officers said he had arranged for knives to be taken to the event.
On the same day, McPhee and his supporters - some wearing balaclavas - had gathered on the fair hill, the court was told.
Judge Peter Davies said there had been "enough people... to have a battle with the promise of serious injury" and "both groups were determined to exact considerable violence".
The annual fair attracts about 10,000 Gypsies and travellers as well as 30,000 visitors over a week.