Sellafield firefighters set strike date in pay dispute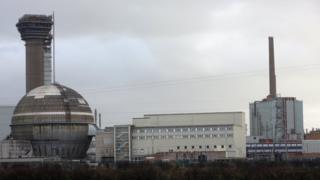 Firefighters at the Sellafield nuclear site have set the date for a 24-hour strike in a dispute over pay.
A spokesman for the GMB union, which represents 63 firefighters at the site, said the action would take place on 24 July.
He said members felt they were not getting the right pay and were doing work above their role.
Sellafield Ltd said it was committed to trying to resolve the dispute and the safety of the site was a priority.
The Sellafield nuclear reprocessing and decommissioning site employs about 10,000 people.
Firefighters currently earn £41,466 including a shift supplement. The offered 5% pay rise would increase this to £43,539 which the union said was not enough.
'Need to pay bills'
GMB senior organiser for Sellafield Chris Jukes said almost all of the site's firefighters, who voted two to one in favour of industrial action, were part of the union.
He said: "Like everyone else in the country who hasn't had pay rises that have kept pace with inflation, GMB's firefighter members at Sellafield need to pay the bills.
"The offer falls short of what's necessary to start making up the ground GMB members have lost to inflation to inflation over the last decade.
"The decision to strike has not been taken lightly and the fact that this is the first time that GMB members working as firefighters at Sellafield will have taken strike action tells you all you need to know in this regard."
The strike will begin at 06:00 BST.