Storm Desmond repairs begin at Carlisle's Sheepmount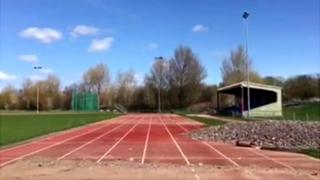 Major repairs of a sports centre damaged by flooding during Storm Desmond have begun.
The track, turf and buildings at Sheepmount in Carlisle were left unusable by the storm in December 2015.
Carlisle City Council said the work, which had been estimated to cost about £3m, should be complete by March next year.
Deputy chief executive Darren Crossley said the priority for this summer will be lifting and replacing the track.
He told BBC Cumbria: "Hopefully the work will all be done in good time to have a good and full athletics season in 2018."