'Fantastic season' for terns in Cumbria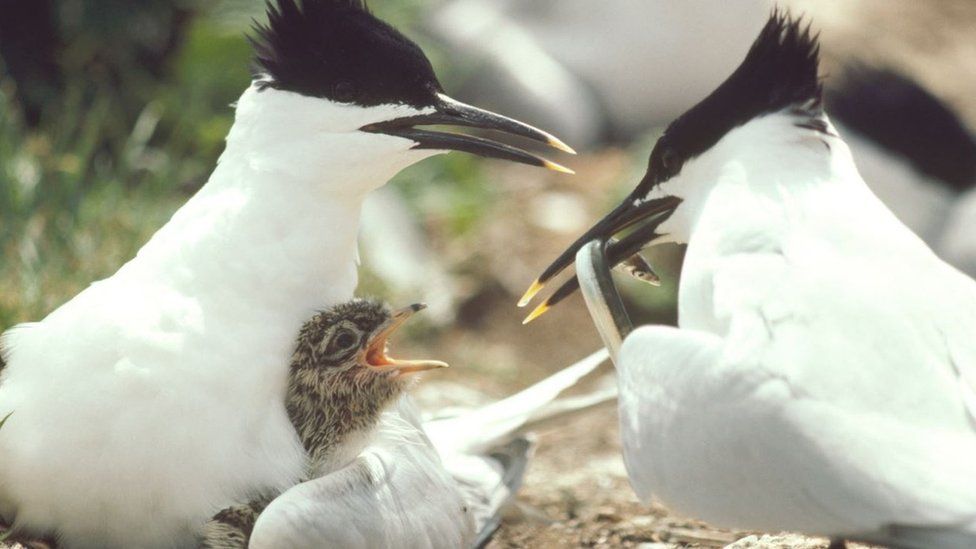 Three species of seabird have had an unprecedented breeding season in Cumbria, the RSPB has revealed.
It recorded 550 pairs of Sandwich terns at its Hodbarrow reserve near Millom - a record for the reserve and the best in the county for 26 years.
There have also been 33 pairs of little terns - well above the average of 20.
At Cumbria Wildlife Trust's Foulney Island Nature Reserve, 59 Arctic tern pairs successfully raised 52 chicks - the highest number since 1992.
Sarah Dalrymple, from the trust, said: "It's been a fantastic season for the terns.
"These delicate white seabirds are incredible. Arctic terns migrate from Antarctica to the UK each year to breed, while little terns are our second rarest seabird.
"They're very vulnerable to predation, disturbance and weather, so for them to do so well in 2017 is brilliant news for all three species of tern."
Dave Blackledge, from RSPB Hodbarrow, said: "Staff and volunteers from both organisations have worked around the clock to protect these terns, so it is massive thanks to their dedicated efforts that these elegant seabirds have done so well."
Related Internet Links
The BBC is not responsible for the content of external sites.