Cumbria teacher denied girl's grope claims to police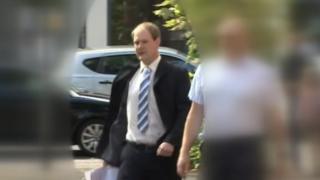 A teacher accused of groping a young girl repeatedly denied the allegations to police, a jury has heard.
David Harrison, 26, is on trial at Carlisle Crown Court having pleaded not guilty to four counts of sexually assaulting a girl aged under 13.
The trial previously heard from the girl who said Mr Harrison, from Abbeytown, Cumbria, put his hand down her shirt on several occasions.
Jurors heard his police interview in which he said: "None of that is true."
Mr Harrison was asked about a specific incident mentioned by the girl, who reported being sat on the floor between his legs as he allegedly touched her.
"Again, not true," he told police.
Mr Harrison also maintained during that interview: "I have not sexually assaulted [the girl]."
The trial continues.