Embers to blame for Maryport turf factory fire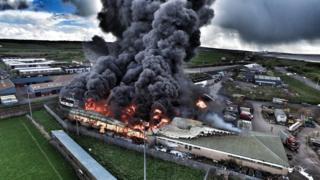 Hot embers from a small fire were the "most probable cause" of a large blaze at an artificial turf factory in Cumbria, fire investigators have said.
More than 40 firefighters attended SIS Pitches on Maryport's Glasson Industrial Estate in April.
Billowing smoke resulted in surrounding roads being closed and train services delayed. Electricity to 700 properties was also cut.
No-one was hurt but it took several hours to bring the blaze under control.
At the height of the fire, smoke could be seen 30 miles away.
A spokesperson for Cumbria Fire and Rescue Service said: "The most probable cause of the fire is accidental and linked to a controlled small fire which had been taking place on the site prior to the main fire starting.
"The fire appears to have started when hot embers were blown from the controlled small fire and onto the rolls of polyester fabric, this fabric was used in the manufacture of artificial grass that were stored on the SIS site.
"This hadn't been noticed when the small fire had been checked and extinguished."
"A fire then started to burn unnoticed in the fabric rolls until the fire developed, became out of control and spread around the site."